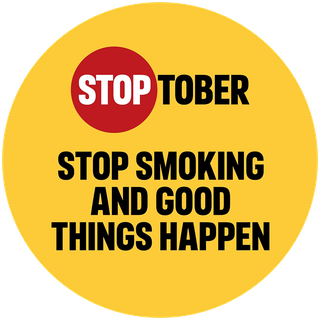 23rd Oct
Stoptober Smoking Cessation
Stoptober Smoking Cessation
Stop smoking and feel better
October is Smoking Cessation month for the NHS to promote everyone to look after their health and quit smoking.
As part of East Basildon PCN, Felmores Medical Centre supports smoking cessation month known through the NHS as Stoptober.
The initiative was first introduced in 2012 aiming to improve the health and wellbeing of the population.
There are massive benefits for people to quit smoking, and replacing this particular habit with more productive habits.
An individual's health can show a number of positive effects, and discernible improvements can become evident almost immediately.
The Stoptober campaign
Stoptober is an annual campaign taking place in the United Kingdom every October to encourage smokers to quit smoking.
The 28 day campaign aims to raise awareness about the health hazards of smoking.
Furthermore, it provides support and resources to help smokers quit the addictive habit.
The Stoptober campaign offers a range of tools and resources to help smokers quit smoking, such as;
a free app
daily support emails
a dedicated website with information and advice
The campaign also encourages people to join the Stoptober community and share their progress and experiences with others.
The campaign's slogan, "Together we can do this," emphasizes the importance of social support in quitting smoking.
By joining the Stoptober community, smokers can receive encouragement and motivation from others who are going through the same journey.
Visit the East Basildon PCN to learn more about smoking cessation and the free NHS Stop Smoking app.
NHS Quit Smoking App
Numerous individuals endeavor to give up smoking via sheer determination, though it is considerably more effortless to become smoke-free with appropriate assistance.
A range of support alternatives are at one's disposal – seek a combination that suits your needs.
Use the month of Stoptober to help you, your family and friends to achieve a better quality of life for the future.
Visit this page to download the NHS Quit Smoking app and learn how to quit and cope.
13th Oct 2021
New Website
We have recently updated our website. We have designed the new website with our patients in mind- we want to make it easier for you to find the information and services you require from your surgery. Many people now rely on their phone or tablet to access information online, our new website is designed to be more user-friendly and easier to navigate through mobile devices.
Quick links through the main menu will take you straight to pages about how to book an appointment, register as a patient, and order prescriptions online. In the Health Advice section you can find links to the NHS website, providing up-to-date information about a range of conditions and long-term illnesses. Patient Advice provides access to a range of health and wellbeing services at both a national and local level, giving you more options when seeking information about long-term conditions, mental health, or social issues.